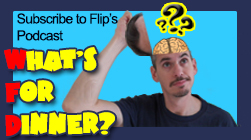 ---
Flip's brand new CD "Flipzophrenic!" will be available for pre-order on iTunes July 12 and officially released (as a download and a physical CD) on July 26. That same day his new comedy video "Supersillyous" will be available exclusively as a download from this website. Start counting down the days!

NEW MERCHANDISE IS HERE!!! For the first time, all of Flip's DVDs (including one from Skippy Greene) are now available for download!! ONLY $5!!!! Check out all the merchandise now at the Store Page.

New videos have just been added to the Video Page.