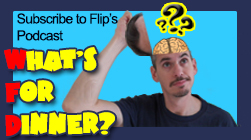 ---
BRAND NEW T-SHIRTS ARE HERE!!! Ladies, check out the Wife! T-Shirts available now at the Store Page. And while you're there you can order a CD or DVD as well! C'mon...all the cool kids are doing it.

Flip recently filmed an episode of Comics Unleashed! Look for it airing sometime this summer.

Friday, Nov. 7, Flip & Allison were on an episode of the game show Celebrity Name Game. Watch the episode on the Video Page under "Other Stuff"